Our little group, not so little anymore, is overflowing with amazing imagery. I am a traditional artist myself, and so my eye tends to wander to traditional art first. Not because I love it more, but simply because it is my craft and I understand it more. Traditional art is definately in the minority in Touched by Fire, and so this week I wanted to highlight some of our outstanding traditional works. The writing I chose for this week is all centered around the themes of human greed, lonliness, loss, despair and the illumination that these emotions bring. It is not that I feel particularly dark today, but I feel that as we reimagine the world we need to understand our darkness. We can't change what we don't understand. Sometimes it is our darkest places that teach us the truth of who we are as humans.

Waiting for the Sunshine by LisaMM
I love the feeling in this piece, the waiting for change, metamorphosis, or rebirth. The cycles of death and birth are also in this poem by lolowe. It is written in a dreamy metaphorical cadence, speaking of death, but also of life.
Before I escaped
The drought my ancestors created
I watched my mother sleep
I saw her face smooth out
The apple core in her hand
The last of its kind
Fell to the floor
Within the withered brown
Of its paper thin core
It held a black seed
I took it
So she would know
I left to plant ourselves
A new world
I am a thief
This I know
But my place in this life
Has become worn down
By the emptiness continuously
Digging out the illusions from our eyes
Like coal from a mine
We are left barren
And without the use of tears
The diamonds pressed into the
Furnace of our bellies
Lack the fire needed
To mourn the passing of what we
Once knew
I had a dream the night before
I woke to the sound of the world ending
I found the courage to run
But instead
Found my feet journeying
To the source of the sound
It was there I found an ocean
It was not the world
But the crashing of waves against
Each other
I wanted to taste
The legend of waters just like this
And slowly I leaned over
To find silvery fish
Swimming in the shed of their own scales
Not water
Just themselves discarded
Sustaining what they knew
In their evolution
I felt the cloak of my skin
Tremble
I wanted to swim
In the fluidity of my own
Body
But found
That I had nothing to shed
Nothing to
Give
Nothing to keep me
Afloat
But I had a seed
The onyx remainder
Or a world lost
I took it to my mouth
The water of my tongue
Cradling it
Wishing it life
And it broke it open
Sprouted within me
A temple
I couldn't swim
In the scales of fishes
I couldn't
Cry the gemstone tears
Long since excavated
But I could bring life
To a layer of Death's own tree
The apple core soul
Shining red
Reminding me of the skin
Still clinging to my mother's lip

White Leather and Chrome by Secretplanet
What can I say about this image. This is amazing figurative work. I predominately paint women, I think men are harder to draw. To me this work just shows the beauty of the human form. The man seems lost in his own thoughts or possibly in meditation. This next poem by Gretchen Cello hints to the eternal now moment and the losing of oneself in quiet contemplation. It is the illumination that comes with the letting go of self.
Ingredients of Purified Proximity
Initial appearance. Greeting morning.
Clouds break. Illumination. Cream. Skin. Slide.
Tracing shape, fit puzzle pieces. Soaring.
Simmering syllables. Low boil. Inside.
Gestures of questioning undermine fact.
Speak to me. In stories. Turning up voice.
Bodies. Introduced. Reinvent react.
Hushed aspiration of becoming… choice…
Awaking to dream. Physical presence.
Absorbing observation. Sacred look…
Ocular mandala. Gold. Transcendence.
Unspoken. Devotion. Fresh chapter book.
Elimination of time, distance, space.
Perpetual. Dejavu. Finding. Place.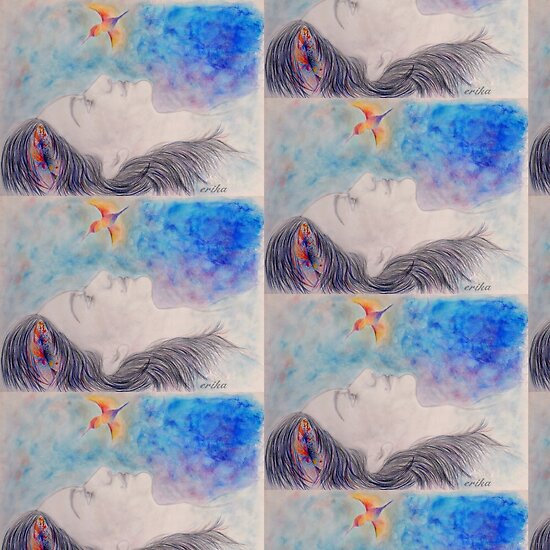 Colibri by Erika
Just a beautiful painting with a beautiful poem attached to it. The woman in the painting is dreaming of a new world, and I believe we all have the power to dream up a new and better and more colorful world. In this next poem by Purplecactus the trouble with our world is blamed on one source, money.
Such a simple word
A single syllable
Spoken in whispers
Shouted in pain
Mouthed in silence
Screamed in anger
This, the cruellest of
Emotions
Unrequited by some
Lost by time
Unobtainable for many
Stolen by others
Destroyer of lives
Ripper of hearts
Killer of families
Crusher of hope
Harbinger of sorrow
It gives us no choice
Sometimes it's power
Sometimes it's sin
Money, for many
Too much is never enough
It strikes like a virus
No warning or cure
A life spent without it
Is no life at all
So we risk all these things
In the name of love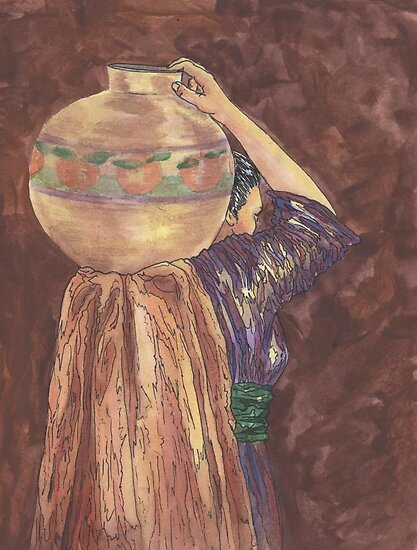 Burden by Redqueenself
I am always a sucker for symbolism. Here Redqueenself is presenting a symbol of women as the bearers of humanities burdens. I really liked how she put the apples on the water jug, hinting to the dominate religious views that women bear the burdens simply for eating from the tree of wisdom and life. In this next poem by Anthea Slade she speaks of the fragility of life. I also liked the symbolism she uses to get her point across.
An untouchable eagle soars high above
the mountains to the heavens
powerful, majestic beauty wings outstretched
but can be dropped earthbound
by one hit of the hunters bullet.
Life can rise you out of the ashes,
smiling free falling with smooth caress
then boom, crash you are hit
Achilles knew the spot on that heel…ouch…
Jack and Jill fell down the hill.
Indeed, how very precious this one life is!
How sacred it is to breathe in
to breathe out
to touch the breast
and feel that red muscle pounding life…
powerful yet so achingly vulnerable.
You can skip and play
You can dance the day away
Hip Hop cool staccato moves
Step and flow hot Latin grooves
You can talk and smile
and live a life of dreams for a while
but when it hits you fall you STOP.
In black silence you crawl
and creep along holding the wounds
in slow motion life returns to the basics.
Your heart opens so wide bursting
with gratitude just to know that
one breath follows another and you
can still taste and can feel love.
Like a child, a tender baby
your survival needs are all that count
smiling it is enough to feel the breeze
on your cheek and to see
the suns rays dance through the shadows
on your window pane.
Turning points
Crossroads
Competition
Empowerment
Challenge
Stress
EGO… it all fades and your eyes
glisten as rain drop tears scud
down your cheek and a smile breaks
and then dances…ah you are ALIVE.
And life is Beautiful.
Lest we forget just how fragile we are.

Titok by Cynthia Lund Torroll
Once again I am amazed by the artist's ability with a male subject. In this work the man also seems to be lost in his thoughts. With the moon over his shoulder you get a dreamy feeling to this. Something about the positioning of his hands makes him seem powerful in his ability to dream and to create. In these words by Hector A. Encinas, there is a feeling of the mundane of life. It is almost as if the subject has lost his ability to dream of new world as he is lost in the grey of life.
Shave;
Shower,
Go to sleep.
Lost in the madness of a dream;
In a minutes lifetime.
Will I wake again?
Will I wake;
Smitten,
in sour hands,
Of another routine day.
This is just jail,
To those who have to wake up in mornings,
And work for such unusable standards.
I find myself taken;
Yet again,
By another grey afternoon.
Bewilderment,
Drapes the eyes of the dead beat corps,
On the bed.

Letting Go by Helene Ruiz
Everything that Helene paints seems to come from a place of deep emotion. This work is no exception. She is paying tribute to a friend that has passed. This last poem by Linaji echoes this sentiment as she is missing a dear friend that she feels the busy pace of life is making them grow apart.
For a Girl With a Heavy Heart I Love You
I don't know what to say,
so I feel,
I wanna say something is brewing
but what?
climbing vines
nostalgic need
strangling off the tree for a life of it's own
roots that lift cement walkways
unfolding in low murmur:
"this is not enough, I am growing"
peeling paint where essence of Cedar lay
smell begins tri color release
"here I am!"
you pray
you say…
"life's dissapointments
cannot hide my smell"
It lingers now (your scent)
full of wants and desires
that are soaring off the charts.
like a forest of forgiveness
like a sky-way lit up with dreams
you wrote in parchment pieces
made from mythical meaning
"I will have mine and I will envy too
Because;
Sometimes, I just cannot love you
when all that I am still does "
Slowing as I look deep inside
this beguiling soft core
I hear her once more saying
without any reservations;
"forgive for now, yes?
but you already do
I feel you
I shall still be like a soft whisper
in your shadows
where the cool space of knowing
exists."